The GalTech Industries Corporation proudly announces the release of the Serpent Class Cruiser (Available as both a player and NPC ship). This ship is the second in a series of original concept vessels planned for release over the coming months.
The ship pictured below is the first model off the GalTech Industries Corporation production lines, named the Sic Vita Est, and is on route to be delivered to the chief test pilot Rese249er
For anyone who is interested I will post instructions on how to personalize your ship with your own ship name in this thread in the next day or two.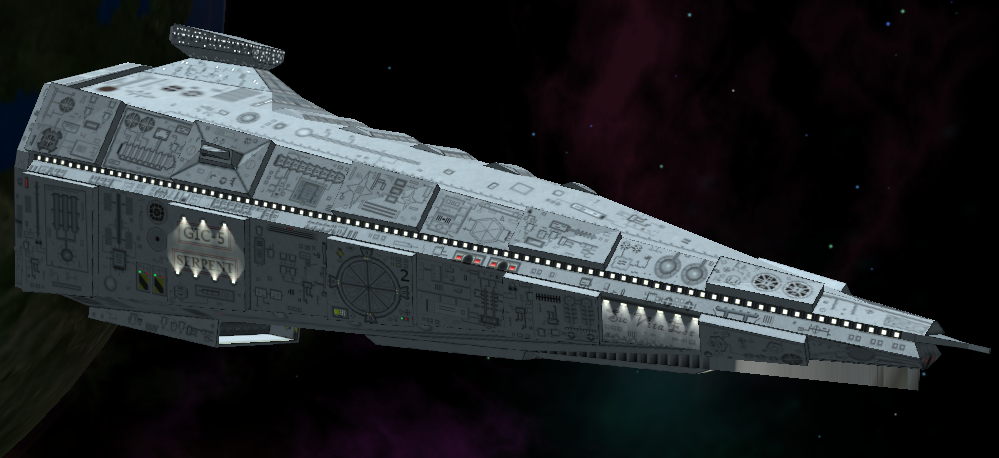 Download it here
https://app.box.com/s/zg7ea2l2h05z2jj00t4e
The Serpent Class Cruiser reflects GalTec Industries Corporation's vision of a modern python type freighter balanced with good manoeuvrability and cargo carrying capacity (Full specification provided below).
For full details of this ship see my Wiki page (Click on the link in my signature strip).
The ship specification is as follows: -
Size (metres WxHxL) 76.5m x 63m x 180m
Standard cargo capacity 185T
Cargo Bay Extension 15T
Maximum speed 0.290 LM
Thrust 20
Manoeuvrability Roll 2.1 and Pitch 1.2
Hyperspace capable Yes
Energy 550 (8 Energy Banks)
Energy recharge rate 4.0
Gun mounts 4No (Fore, Aft, Port and Starboard)
Missile slots 4
Shield boosters available Yes
Military shields available Yes
Fuel scoops available Yes
Tech level 6
OXP or standard OXP
Available to player Yes
Base price 475,000 Cr