Hi all!
Real life has been keeping me busy for quite some time, but finally I managed it to complete a new ship:
The Pitviper Mk. II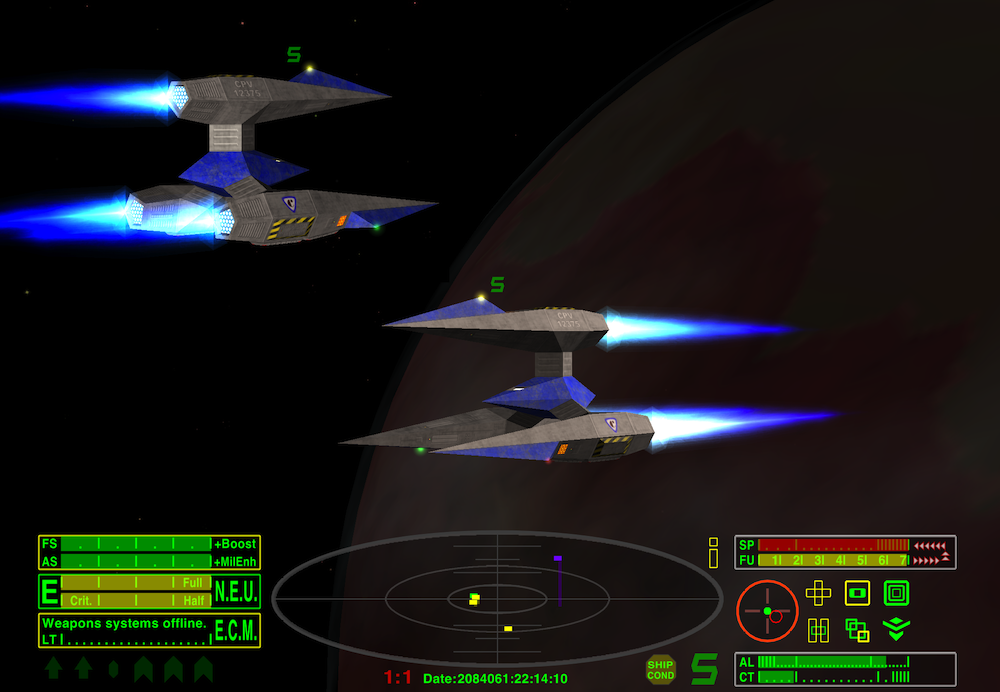 You can download the oxp-files (hud and ship) together with the model- and texture-sources here:
https://app.box.com/s/n1ogok2j4rif2ghh0nan
The Pitviper Mk. II is a corvette-class combat vessel, a further development of the original Pitviper.
It´s faster and has a better maneuverability and energy recharge rate than the original Pitviper, but less
energy and less missile capacity.
Like the original pitviper, the Mk II has forcefield-reinforced hull. Additionally the Mk. II has a cutting blade
("daisycutter") on each fuselage. This enables the pilot to attack other ships by ramming.
But be careful! If the speed is too high (or the opponents ship is really big), even a reinforced hull
and a daisycutter may break.
CPV-12375 Pitviper stats:
Size (metres, WxHxL) 57 x 52 x 94
Cargo capacity: 12 TC
Cargo bay extension: none
Maximum speed: 0.375 LM
Manoeuvrability Roll: 2.8
Pitch: 1.2
Yaw: 1.2
Thrust: 50
Energy banks: 8
Energy recharge rate: Very good (4.5)
Gun mounts: Fore, Aft
Missile slots: 6
Shield boosters available: Yes
Military shields available: Yes
Hyperspace capable: Yes
Available to player: Yes
Base price: 515000 Cr
A HUD designed especially for the Pitviper is also available. If you want to use the CPV2-HUD, just edit the shipdata.plist
and delete the two slashes in front of the line "hud = cb68_cpv2_hud.plist. Or just put the stand-alone-version of CPV2-HUD into
your addons folder.
Oolite 1.77 allowes to display hud-legends depending on the equipment installed. cpv2-hud uses this new
feature for some control-lights. I have not found the time to create icons, so i just used text. But you can see the
"proof of concept"
I hope you like the ship and the hud.
If you find any bugs, please report them on this thread.
I have no access to the wiki, so it would great if somebody with access to the wiki would be so kind to add the pitviper to the oxp-list.
Thank you in advance.
Best regards
C.B.